819-722-2424
Hunting
Club Trout Lake lays claim to a rich and large wildlife habitat area providing maximum chances to harvest a moose and possibly a real trophy rack.
Our location
in Témiscamingue, Quebec, zone 13, moose paradise.
Moose Hunting
6 reasons for a successful hunt.
1- An important herd containing about
188 moose.
2- One of the highest quotas allotted
by the ministry of wildlife
to any exclusive outfitter (possibility
of harvesting 132 moose per three years)
3- One of the highest success rates in
Québec.
4- We control the number of moose
harvested yearly.
5- One moose per two hunter party.
6- Early fall season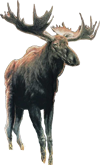 Our Territory
- 438 km2 of exclusive hunting area
- Made up of mixed forest, providing
good cover and abundant food
supply for moose.
- This territory was selected by "Forêt-
Québec" as a pilot project to test
integrated forest management practices.
- Forestry practices using smaller cutting
areas spaced further apart on the
territory, and spread over a longer period
all contribute to, and even improve moose
habitat.
- Some territories have not yet been hunted.
- Other new territories recently made
accessible.







click here to enlarge
Bear Hunting

Increase your chances to harvest a large Black Bear possibly a real trophy specimen
- 1 000 km2 of hunting area.
- Abundant bear population, presently
under harvested.
- An agreement with our neighbor, Kipawa
ZEC, increases our hunting area and an
even richer wilderness for our customers.
- Recent forestry operations stimulate
regrowth of fruit shrubs for bear feed.
- Hunting spots baited professionally and
regularly.
- A limited number of hunters