819-722-2424
You can get exclusive moose hunting rights on a territory.
Few places in Québec can offer this type of rare opportunity to hunters.
A very limited number of such exclusive territories can be offered in this way at Club Trout Lake.
This offer is being made on hunting spots newly made accessible by opening up roads for ATV's.
These hunting spots have rarely been hunted before, as they have been so hard to reach.

For further information and pricing, please contact us directly:
Noël Thibault, Club Trout Lake
P.O. 157, Belleterre P.Q., Canada, J0Z 1L0
Tel. : (819) 722-2424
info@clubtroutlake.com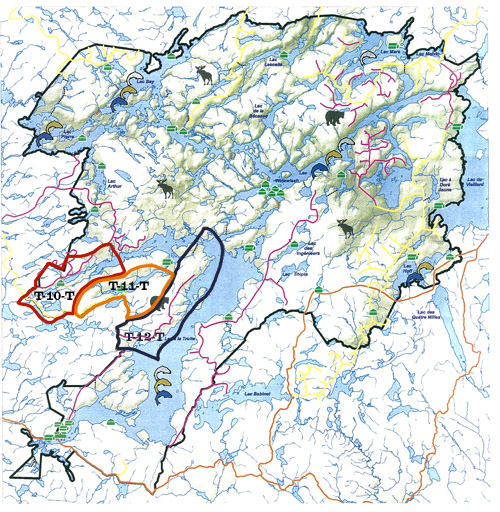 click on one of these territories (red, orange, blue) for photos and related information.
click here to enlarge map
OFFER
Exclusive moose hunting rights for you and your group of hunters on the territory for the full length of the contract.
ADVANTAGES
- Allows for long term
planning
- Access to territory during the
off season
- Get to explore your territory
- Make your personal
preparations pre-hunting
season
- Benefit from preferential
season opening dates

HOW IT WORK
A contract for a minimum of three years, and up to nine years is agreed upon by CLUB TROUT LAKE and you.

All and any conditions can be added to the general conditions of each contract, and are determined by the parties.